For Health Coaches...
Interested in becoming a fatburn.com coach?
Here's why you should:
You can view each of your clients and their daily progress from your personal Web page. Simply click to see what foods each client is eating, how many calories he or she is burning, and what their net caloric burn is every day.
Send real-time feedback to each of your clients right from your personal page.
You can get new clients from our site! Your picture and profile will appear on several pages that fatburn.com clients can use to search for coaches in their area.
Periodically, we will feature you! You will appear on the main page of the Coaching tab. Your bio and contact info will be presented and fatburn.com users can select you as their personal coach!
Be a part of a proven Internet-based weight loss system. If you don't believe it, check out our testimonials and the before and after pictures on the site.
We will pay you to sign up users. Send an e-mail for more information.
Right now, all of this is FREE for you!
It's easy! Just sign up. When you get to the "Select your Billing Option" page, just select one of the coaching options. This will automatically add you to our system.
---
Sample Pictures
Take a look at some screen shots of the fatburn.com system in action.
How Clients sign up with you
Here's how our clients choose you to be their coach.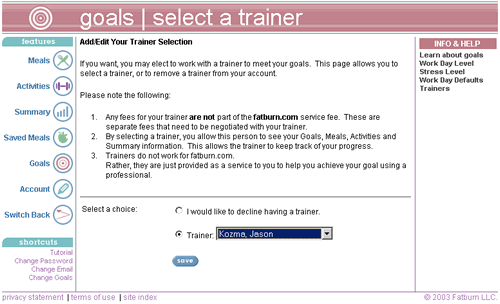 Special Coach Pages
As a coach, you see a list of all of your clients that have signed up.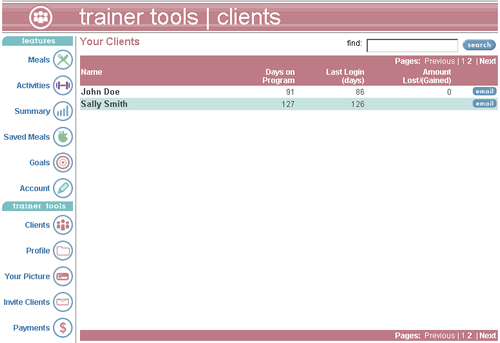 When you click on one of your clients, you will be able to see their foods, activities, and summary pages--just like your client would see them. (Take a Tour for more information.)